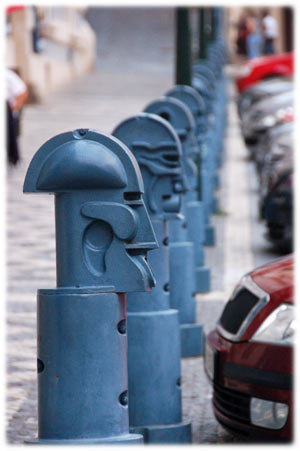 Finding a parking spot in Prague can be next to impossible. Most of the spaces in the city centre (such as Prague 1 and Prague 2 districts) are reserved for residents, so you'll have to look for public lots with machines that issue temporary permits (look for the big blue "P" on machines). To use the machines, insert the required amount of change—usually 20 CZK to 40 CZK an hour—then place the ticket in a visible spot on the dashboard. Violators will find their cars towed away or immobilized by a "boot" on the tire. Some hotels offer to park—and this is a real advantage—though you may have to pay extra. A few streets also have meter parking where you buy tickets to put in your window, but finding a spot is a virtual impossibility. Changes in the parking policy are pending due to complaints from local businesses.
Parking is generally unrestricted in the city's outer areas, though vacant spots can still be hard to find. If you have a car and you need to get rid of it, try parking it on one of the streets in Prague 6 or Prague 7 across the river and north of the Old Town. There's an underground lot at Náměstí Jana Palacha, near Old Town Square. There are also park-and-ride (P+R) lots at distant suburban metro stations, including Skalka (Line A), Zličín and Černý Most (Line B), and Nádraží Holešovice and Opatov (Line C).
While parked, however, it's advisable to keep valuables locked away and out of sight of would-be thieves.
Prague Centre – Public Parking Zones
Prague districts Prague 1, 2, 3 and 7 are divided into three parking zones – orange, green and blue. Anyone violating the rules below risks their car being towed away!
Orange Zone
Maximum parking time is limited to up to 2 hours. Charges: 40 CZK per hour, 10 CZK per 15 minutes (the minimum time is 15 minutes). The zone is effective from 08.00 to 18.00.
Green Zone
Maximum parking time is limited to up to 6 hours. Charges: 30 CZK per hour, 15 CZK per 30 minutes, or a lump sum of 120 CZK per 6 hours. The zone is effective from 08.00 to 18.00. Both zones are equipped with coin-operated parking meters that take coin values CZK 5, 10, 20 or 50. Operating instructions are attached to the parking meters.
Blue Zone
Long-term parking zones designed solely for residents of Prague 1 or companies based in this district. Only vehicles with a parking permit can park here.
P&R Parking
To reduce traffic congestion in Prague, the traffic authorities have provided a Park & Ride system to encourage people to leave their cars in the outskirts of Prague and take public transport to the centre (metro, trams). These guarded parking places are not only safe but are very cheap; it costs only 10 CZK regardless of how long you leave your car (available from 04.00 until 01.00 the next day, 100 CZK overnight).